Sanau Ruins is a cave system located to the West-South-West of Soarna, or the East of Halbol. (551,844)
Level of monsters: 10-26 [Mainly Fire Element]
Recommended player level: 18+
Getting There
Edit
From Halbol:
To get here go SSE from Halbol until you reach the mouth of the river, go to the beach and swim around to the other side of the river. Then follow this beach SE until you reach a cliff, again swim around to the other side of the cliff (this is a fairly large swimming section so make sure you have most of your End and Guts before going in). Then follow the edge of this cliff NNE and you will see the entrance.
From Soarna:
Leave via. the West exit of Soarna, travel SW until you reach the river, follow this river W until you find a bridge (this is not far after a junction in the river). After crossing this bridge travel SSW for a short while until you see the edge of a cliff, follow the Eastern edge of this cliff SW and you will soon see the entrance.
There are 3 known Quests in this cave system:
- The collection of 5 "Bahida Moss" for Sendete in Soarna
The moss is found in the 1st level of the cave (outdoor section) growing on the walls.
See POI on the map below
- Obtaining a "Thankful Statue" for Ochim in Soarna
This is located on the 6th level. (through the eastern-most exit of 5th level)
You must ask the old man, who will exit and enter the area regularly, for a statue. He will ask you to bring him 3 Pretty Crystals in return for a statue. However, I found once he had completed his dialog, I was able to steal a statue. Even with him standing there.
- Obtaining the "Ancient Litograph" for the Halbol Elder.
This is received when the Mystery Man is defeated.
To get to him you must have the Spirit's Stone which you got from delivering a lively fish to the shrine in Notte Cave. Place the Spirit's Stone on the seat just north of the entrance on the 5th level (see POI on map). The statue to your left will move aside and allow you to go through the doorway. The Mystery Man is in this room.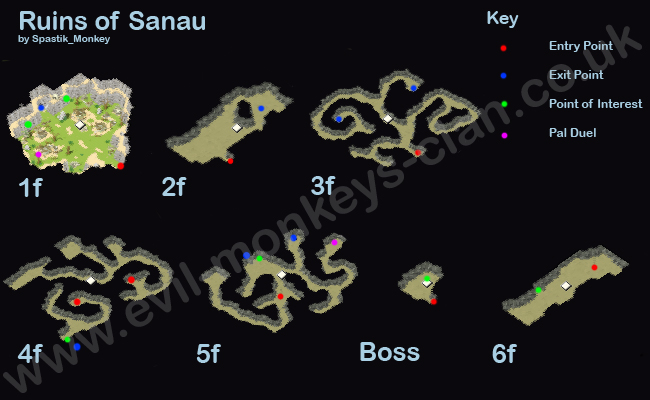 Map Supplied By Spastik_Monkey, information supplied by Spastik_Monkey and Apostle_Monkey